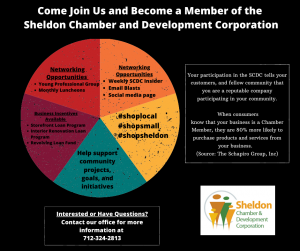 Why become a member of the Sheldon Chamber & Development Corporation (SCDC)?
The Sheldon Chamber and Development Corporation stands by the mission to promote a lasting community "Where Families Come First". As with any business, we are constantly working to provide high-quality programs, services, and amenities within the Sheldon community. By partnering with the SCDC, you are directly supporting our ongoing efforts in making Sheldon a better place to live, work, and conduct business.
How does becoming a member of the SCDC benefit your business?
Supporting the SCDC allows for undeniable growth opportunities within our community, while providing concrete benefits to your business. By being a Chamber Member, consumers recognize that you support the local community. When consumers know that your business is a Chamber Member, they are 80% more likely to purchase products and services from your business (The Schapiro Group, Inc). We encourage you to review all membership level resources, programs and incentives available to you as an SCDC Member. If you have any questions about the SCDC, our goals as an organization, or have new ideas, please contact the SCDC at (712)-324-2813.